Dogs have a significant environmental impact because of their toys, food, and other pet care accessories. The majority of dog toys and food packaging use single-use plastics, and most pet food is not environmentally sustainable. Some studies on pet food sustainability have even shown that the environmental impact of a dog is similar to the impact of owning a large SUV. According to a research article on the environmental impacts of dog food consumption, producing pet food takes up 30% of all meat consumptions' total ecological footprint. This figure is equal to releasing 64 million tons of carbon dioxide each year. Fortunately, as we have realized the dangers of plastic and the unsustainable production of pet products, some companies have shifted towards creating more eco-friendly dog food and toys. Check out some of the top eco-friendly dog food and toys below!
Sustainable Dog Food
Petcurean Gather
Petcurean Gather dog food is completely vegan and sustainable for our environment. Additionally, this company's dog food is completely organic, made with no GMOs, and all completely natural. This vegan dog food is made from pea proteins that have additional omega-3 and omega-6 proteins inside of it.
Amazon Rating: 4.6/5
Where to Buy:
Wild Earth
Wild Earth Dog food is completely natural and filled with high vitamin, superfood ingredients. This company's food is completely plant-based, and much more sustainable than its meat-filled counterparts. Filled with ingredients such as dried yeast, oats, peas, sweet potato, and chickpeas, Wild Earth's dog food is high in protein and fiber as well as contains ten essential amino acids.
Amazon Rating: 4.3/5
Where to Buy:
The Honest Kitchen
The Honest Kitchen has been creating sustainable, high-quality dog food since 2002. Their Kindly product line is completely plant-based, very sustainable, and verified as non-GMO. Their dog food is also dehydrated, which reduces product weight. This creates several benefits, including minimizing greenhouse emissions during shipping and decreasing the amount of material needed for packaging.
Amazon Rating: 4.6/5
Where to Buy:
Jiminy's Good Grub
Jiminy's Good Grub Insect Protein is a highly sustainable and nutrient rich source for feeding your dog. Their food is hypoallergenic, acts as a prebiotic, and has more omega-3 and B12 than salmon. Made from insect protein, this company exceeds AAFCO canine standards for B-Vitamins, Choline, and fatty acid content. Jiminy's also reduces the "carbon pawprint" of their dog food significantly, as switching a dog from a chicken diet to Good Grub saves over 500,000 gallons of water per year.
Amazon Rating: 4.2/5
Where to Buy:
Lily's Kitchen
Lily's Kitchen dog food is made fresh, organic, and consists of well-sourced natural ingredients. While most of their food mixes are meat-based, none of their food is made with any derivatives, fillers, or preservatives. On top of this, Lily's Kitchen consistently receives a 100/100 Ethical Company Index Score by the Good Shopping Guide and encourages their suppliers to track their energy/water usage as well as implement more eco-friendly waste disposal initiatives. They also use sustainable packaging made from mostly compostable and recycled materials, and fully power all their facilities with renewable energy.
Amazon Rating: 4.5/5
Where To Buy: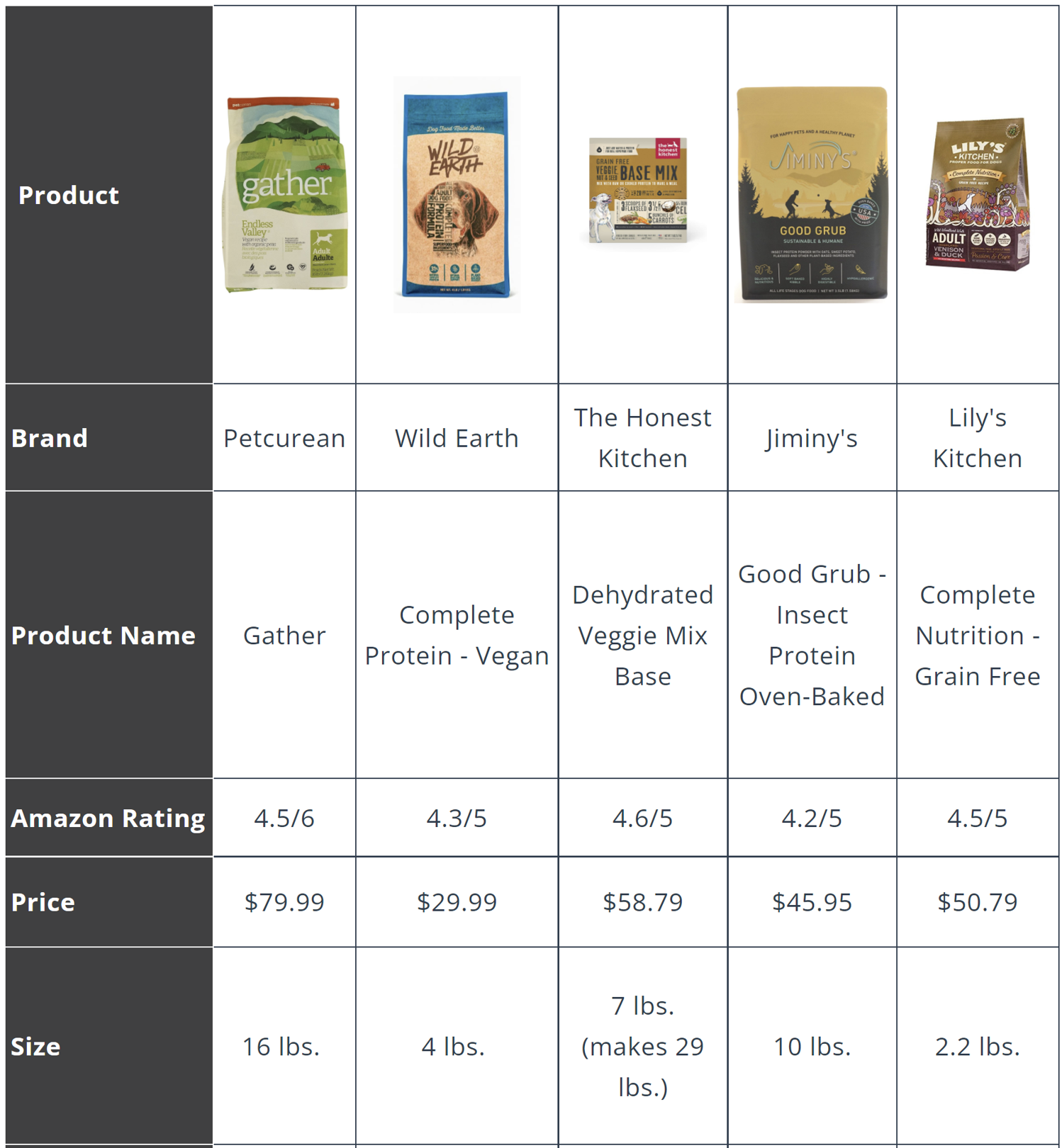 Eco-Friendly Dog Toys
Cycle Dogs - Duraplush
Cycle Dogs' Duraplush is a fuzzball squeakless dog toy ideal for throwing, playing fetch, and for chewing. This toy comes in many possible sizes and shapes on both Amazon and their company website. Produced in the United States, all Cycle Dogs' toys are made with a focus on sustainability and protecting our environment. To achieve this, Cycle Dog toys are created from post consumer recycled materials and are built with lasting durability. The Duraplush is hand-sewn at Cycle Dogs' facility in Portland from 2-Ply tough fabric, which is a tight-knit nylon inner with quick-drying soft outer. This is then filled with upcycled materials such as post-consumer recycled plastic water bottles. All of these toys are designed to utilize the maximum amount of fabric with very little production waste. Also, none of their plush toys have an internal squeaker, eliminating unnecessary single-use plastic.
Amazon Rating: 4.5/5 stars
Where to Buy:
KONG - Fillable Classic
KONG's durable natural rubber dog toy is perfect for your dog's playing needs, and is made to help solve chewing, boredom, teething, boredom, crate training, digging, and barking. This toy is made to be extra durable through their company's all-natural red rubber formula, which is also eco-friendly. The unique shape of the toy allows for erratic bounces while playing fetch, and the center can be filled with treats to make the toy also function as a food puzzle for your dog.
Amazon Rating: 4.6/5
Where to Buy:
West Paw - Zogoflex Bumi
West Paw's Zogoflex Bumi Dog Toys are made to be both durable and lightweight toys that are chewy and can be stretched to twice their length for long games of tug-of-war. These toys are made completely latex free, non-toxic, and recyclable. West Paw's toys are also dishwater-safe and come with a manufacturer's guarantee against damage.
Amazon Reviews: 4.4/5
Where to Buy:
Beco - Rubber Ball on Rope
Beco's rubber ball on rope and similar toys are perfect for fetch and tug-of-war. The long rope handle allows for further throws and more safety while playing. The rubber balls are made from 100% natural rubber and rice husk, and are sustainably harvested from the trunk of rubber trees. The rope is made from recycled cotton and is completely non-toxic.
Amazon Rating: 4.4/5
Where to Buy:
Planet Dog - Orbee-Tuff
Planet Dog's durable orbee-tuff ball is designed to withstand lots of aggressive chewing and many games of fetch. Coming in many sizes, colors, and designs, the orbee-tuff ball is made with TPE rubber that is BPA, lead, and phthalate-free. Some of these toys are also infused with natural mint oil to help freshen your dog's breath. The orbee-tuff ball also has a treat-dispensing hole that is fillable with all of your dog's favorite treats for hours of playful fun.
Amazon Rating: 4.5/5
Where to Buy: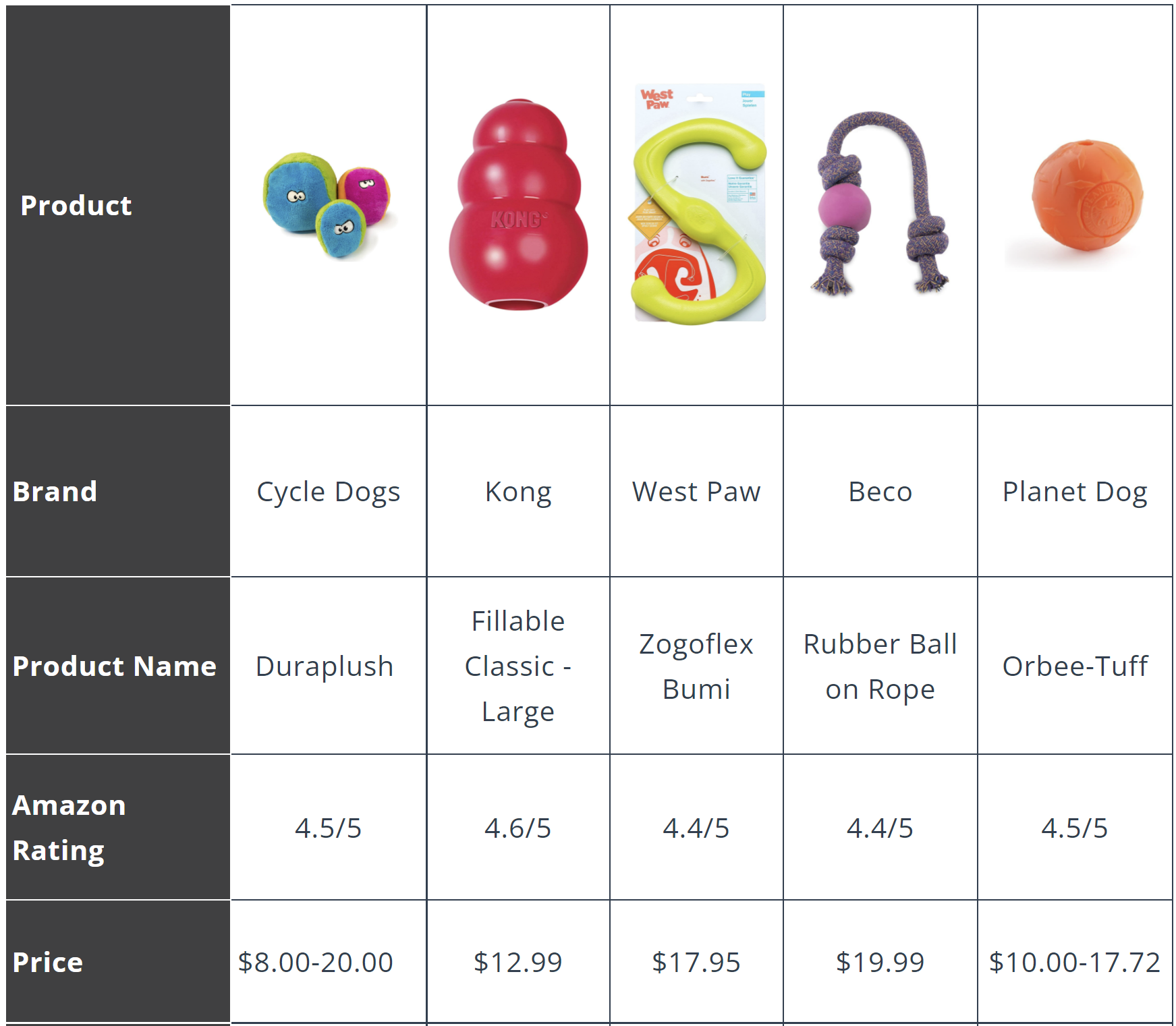 Recycling
Besides purchasing more eco-friendly dog toys and choosing more sustainable pet food options, there are other ways that you can reduce the ecological footprint of your dog(s). A great place to start is by donating used items to your local animal shelter or Humane Society. If you're in the the Greater Seattle area, PAWS accepts lightly used toys and accessories as well.
Recycling/upcycling dog toys, leashes, bowls, and more can significantly help the environment through proper disposal and repurposing of unwanted accessories. You can find a database of Washington State recyclers who will accept these types of products here.
Check out the rest of the Living Green Technology blog for more tips and tricks on how to live an eco-friendly lifestyle.