Successful businesses will ultimately have to decide to upgrade their equipment or decommission old electronics as they move to a different, larger location. This process, depending on the scope, can take dozens of man hours and require employees to come in after-hours to finish the move. Another viable, and oftentimes more advantageous solution is to bring in a company to decommission your electronics for you. Here's why:
1. Office decommissioning companies are much more cost-efficient.
They're professionals who specialize in this sort of work. That means you aren't unnecessarily allocating your employees' hours to something they may struggle with. Moreover, you can find companies that will do this for you for free, thanks to many having a business model that doesn't rely on directly generating revenue from this activity.
2. It can be the best way to securely destroy any data.
Secure data destruction is becoming increasingly important as new regulations like GDPR come into play in the wake of massive data breaches. Sensitive data must be safely disposed of so larger issues like lawsuits don't become a reality down the road. Make sure that office decommissioning company you choose offers secure data destruction.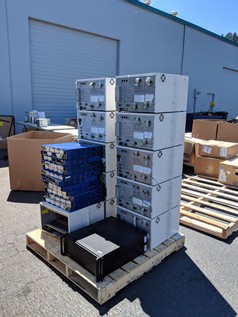 3. Office decommissioning companies can recycle your electronics for you
Recycling electronics can be a hassle, especially if you have to worry about dozens or even hundreds of pieces of hardware. Rather than renting some trucks and taking everything to a recycling center, you can bring in a firm to handle everything for you. This can also be great for the local business community, as other firms who may need equipment can reuse your IT hardware. Consequently, fewer hazardous materials make it into the environment, making office decommissioning one of the more green initiatives and positive PR moves your business can decide to undertake.
These reasons are just the tip of the iceberg when it comes to why searching for a responsible, environmentally conscious office decommissioning partner can be great for your business and the planet.
Are you in need of an IT office decommission in Seattle or Portland? Living Green Technology offers 100% free services, along with secure data destruction for a nominal fee. Schedule a pick-up today!